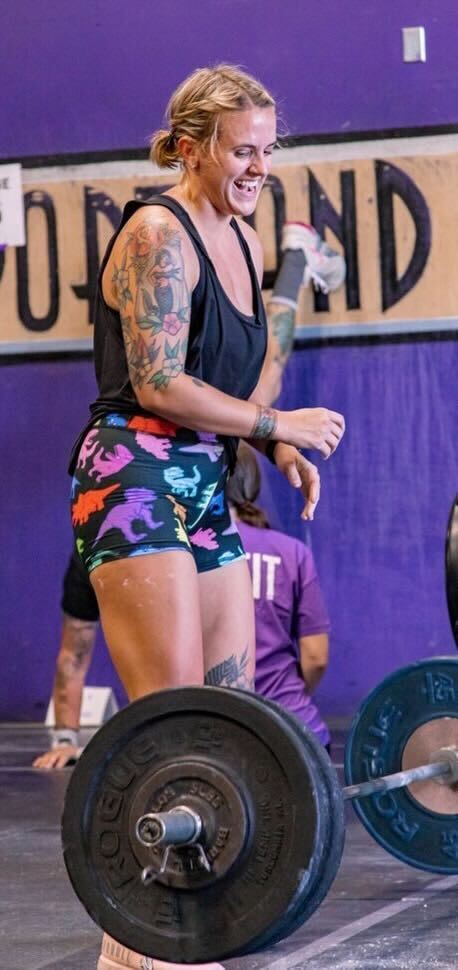 Cassidy Fimple
College attended/Degree/Military Service and what you do now?
-I received my bachelors of science in Kinesiology from Georgia College and State University. A few years later I completed my Masters in Health Administration through Purdue University. Currently, trying to figure out what I want to be when I grown up!
Your athletic background?

-Growing up with brothers, it seems that everything was a competition and an extreme sport. But I started playing softball as soon as I was able to hold a bat. I played throughout grade school, and now just for fun whenever there is the opportunity.
How did you find CrossFit?

-My husband first started doing CrossFit while we lived in Alaska, and I always swore I would never. But while we were living in Maine, he convinced me to try out this local box and needless to say I was hooked after my first month. We laugh about it now, because we like to compete against each other in the WODs…. and occasionally together too!
My favorite CrossFit movements are?

-I love a good heavy clean day, don't care if it's power or squat! But honestly, it's always a good day when a heavy barbell is involved!
CrossFit Athlete I'd like to WOD with....
-Dani Speegle…. I love her "girls who eat" movement! She lets girls know that it's okay to be muscular and super strong and still be beautiful and feminine!