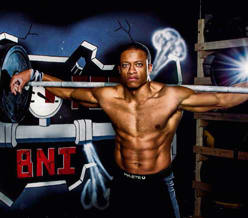 Damion Jones
College attended/Degree/Military Service and what you do now
BS Biology - Florida State University (2000)
Masters Physical Therapy - Florida A&M University (2002)

Your athletic background (did you play competitive sports, college sports; your certifications – including what CrossFit certs you have
Walked on to the FSU baseball team and played with the scout team for 1 year
Played baseball, basketball, and football in high school (no offseason!).
CrossFit Level 1

How did you find CrossFit?
Two separate couples that we are good friends with kept telling us about CrossFit and how we should try it. We kept blowing them off. Finally, a Groupon came out and we said "what the heck, we'll try it for a month and then go back to LA Fitness". Well, here we are 6 and a half years later, we're still addicted to CrossFit, and haven't been back to LA Fitness!

Favorite CrossFit move (could be Oly lift, other lift, cardio move, even burpees (if you really love them!))
Handstand walks

CrossFit athlete you would most like to WOD with (and for what reason)
Julie Foucher: fellow medical professional, amazing athlete, and...hot! (Don't worry, my wife knows how I feel about her...lol!)