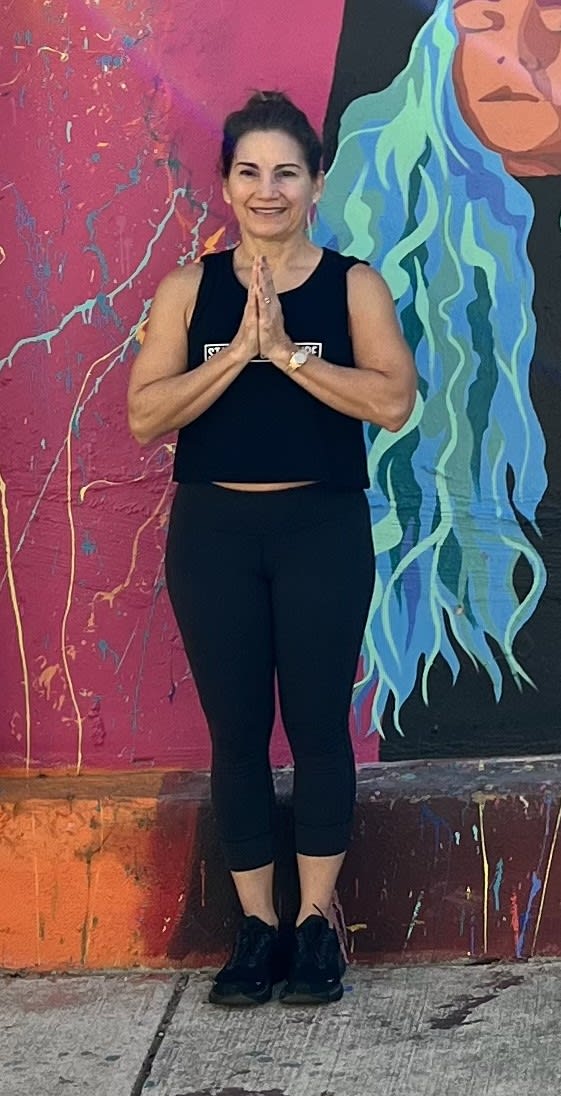 Yolanda Cate
College attended/Degree/and what you do now.
Obtained B.S. and M.S. degrees in Occupational Therapy at the University of Kansas in 1989 and 1998 respectively. Moved to Florida in 2003 and after establishing a private practice, has been serving persons with disabilities and/or diabetes as a certified and licensed occupational therapist (OTR/L), certified diabetes care and education specialist (CDCES) and certified aging in place specialist (CAPS).
Your athletic background (did you play competitive sports, college sports; your certifications – (including what CrossFit certs you have).
In 2018 became a Registered Yoga Teacher (RYT®200). I had been practicing yoga for over 25 years before becoming certified as a teacher.
Most recently obtained certification by the Adaptive Training Academy (ATA), Adaptive & Inclusive Fitness Trainer, in January 2022.
I played volleyball and ran track in middle and high school. Grew up in an outdoorsy very active family in Nicaragua, fishing, boatingand camping on most weekends.
How did you find CrossFit?
I found CrossFit in 2010 after one of my daughters was prescribed CrossFit to strengthen her back after injuring her back. I was complaining about the lack of variety in the bootcamp classes I was enrolled in at a local gym. I tried a free class. I was a master athlete back then and 13 years later here I am as a grandmaster athlete loving it still. I would say it was love at first sight.
Favorite CrossFit move (could be Oly lift, other lift, cardio move, even burpees (if you really love them!))
Love burpees.
CrossFit athlete you would most like to WOD with (and for what reason).
I have worked out with Annie Thorisdottir within my sight. No, she did not know I was there but smiled in my direction. When I was leaving the gym BK Gudmundsson was right there and I had to move around him to get out.
Working out with Brent Fikowski would be fine. Just fine.